EP RN Electrophysiology for Cherry Hill Cardiology
Job ID R1009133 Type Employee - Full Time Location Cherry Hill, New Jersey Standard Hours 40
Health Management Services Organization                                         Job Description
Title:    Electrophysiology RN                                                              
Reports To: EP Lead Physician, RN Supervisor, Operations Coordinator                        
Department: Lourdes Cardiology Cherry Hill                            Exemption Status: Non-Exempt
Job Summary: The Electrophysiology focused Registered Nurse provides quality care to patients. Using the nursing process, the RN will assess and document the care of patients. Works cooperatively with ancillary staff, nursing, and providers to maintain standards.  Promotes patient's health by managing long-term patient care. Assists physician in caring for patients with pacemaker, defibrillators, and loop recorders.             
The following statements reflect the general duties, responsibilities and competencies considered necessary to perform the principal functions of the job and shall not be considered as a detailed description of all work requirements that may be inherent in the position.
Summary of Accountabilities:
Perform device interrogation clinics in various offices
Collaborate with office physicians regarding device management and concerns
Demonstrates critical thinking skills and the ability to make decisions that provide optimal and timely patient care
Triage and assess patient problems/concerns while making sound nursing judgments
Review and follow up of escalated daily remote PM/Defibrillator transmissions
Utilize Device Vendor Databases for escalated remote transmissions
Perform wound checks on post procedure patients
Educate patients on importance of remote monitoring and utilization of remote devices
Enter device evaluations in EMR for clinical record
Maintains appropriate patient records and documents clinic visits
Enter appropriate CPT codes and submit to the EP physician for sign off
Coordinates follow-up plan with office staff to ensure that patients obtain follow up visits and other treatments as needed
Maintains nursing supplies and anticipates needed supplies
Maintain safe and clean working environment
Maintains a cooperative relationship among the health care teams, offices, and hospitals
Adheres to the policies of the organization
Familiarity with HIPAA  and Patient confidentially regulations
All other job duties as assigned
Minimum Certifications, Registry and/or Licenses Required:
Current State of New Jersey nursing license to practice as a registered nurse.  Current CPR certification and BLS.
Minimum Degree Required and Experience Required:
Graduate of an accredited nursing program.  Minimum of 3-5 years of Electrophysiology, Cath Lab, or Cardiology experience (ie. rhythm interpretations and device interrogation and remote transmissions).
Job Qualifications:
Able to communicate effectively and courteously with patients, providers and staff members.
Should have no problems working in a team environment, or independently.
Proficient in Sage EMR.
Excellent telephone etiquette.
Reflects professional image and possesses excellent communication, organizational, interpersonal and team work skills.
Make accurate physical assessments
Must be physically able to lift, support, and move patients.                
Apply


Check Out This Job's Location
The Virtua Experience
Our journey to be leader in customer satisfaction and loyalty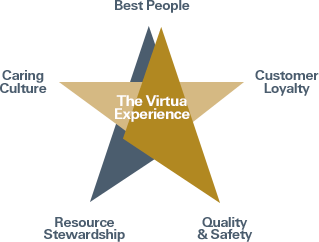 Mission:

Virtua helps you be well, get well, and stay well.

Vision:

Virtua, the premier choice in health and wellness.

The Virtua Credo:

We provide genuine, caring service every time.
NEWS RELEASES
Read the latest news about Virtua's programs and services, community events, recent awards and more.
See More