Food Service Worker
Job ID R1008464 Type Employee - Full Time Location Mount Holly, New Jersey Standard Hours 40

Summary:

Performs a variety of food and production assignments, along with related cleaning duties.

Provides the highest level of customer service with the goal of delivering an outstanding experience.

Position Responsibilities:

• Receive, Store, Prepare/Produce, Cleans and Serve.

• Ensuring the accuracy and integrity of all products delivered for use within the Food Service Department and put away in appropriate locations.

• Safely handles and stores all products according to applicable guidelines.

• Follow recipe, production standards and assignments.

• Assembles trays and plates according to customer needs.

• Maintains clean, sanitary, and safe work environment.

• Safely operates kitchen equipment according to established guidelines.

• Tends to customers (face-to-face, via phone, etc), and handles all cash transactions following cash handling policies.

• May be required to work off-site.

• Follows all regulatory guidelines as required.

• Communicates effectively to identify issues and ensure corrective measures are implemented.

Position Qualifications Required / Experience Required:

Ability to speak English.

Prior Food Service experience preferred.
Apply


Check Out This Job's Location
The Virtua Experience
Our journey to be leader in customer satisfaction and loyalty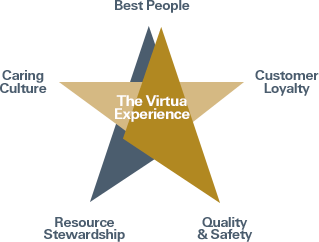 Mission:

Virtua helps you be well, get well, and stay well.

Vision:

Virtua, the premier choice in health and wellness.

The Virtua Credo:

We provide genuine, caring service every time.
NEWS RELEASES
Read the latest news about Virtua's programs and services, community events, recent awards and more.
See More