Unit Secretary
Job ID R1006281 Type Employee - Part Time Location Mount Holly, New Jersey Standard Hours 20

Summary:

Performs clerical and secretarial duties on the unit.

Prepares, compiles, and maintains patient and operational records in the nursing unit.

Position Responsibilities:

• Processes and maintains clerical information on unit, including lab and other test results. Transcribes and accurately enters physician orders into the computer system. Responds to, screens and refers telephone messages and requests regarding patient information and unit operation to the appropriate personnel. Assists with coordination of patient flow and visitor security.

• Maintains patient medical records in computer system, ensuring completeness and accuracy of patient charts and records, physician orders, admission, discharge, transfer status.

• Assists with coordination of patient flow. Sets up transportation and appointments for follow up with physicians.

• Maintains supplies, equipment, and places orders for service, coordinating with Environmental Support Services as required.

Position Qualifications Required / Experience Required:

Basic computer skills (word processing, data entry), with ability to quickly learn and become proficient using Unit computer systems.

Understanding / familiarity of medical terminology or ability to quickly learn in order to process and maintain accurate medical records.

Professional demeanor and strong interpersonal skills demonstrating the ability to communicate clearly, effectively, tactfully, and courteously with customers and staff on all levels.

Ability to multi-task effectively.

1-2 years secretarial or administrative assistant experience in a medical setting is preferred.

Required Education:

High school graduate or equivalent.

Additional coursework in the medical support field is preferred.
Apply


Check Out This Job's Location
The Virtua Experience
Our journey to be leader in customer satisfaction and loyalty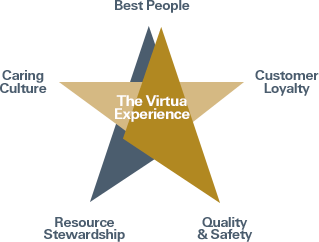 Mission:

Virtua helps you be well, get well, and stay well.

Vision:

Virtua, the premier choice in health and wellness.

The Virtua Credo:

We provide genuine, caring service every time.
NEWS RELEASES
Read the latest news about Virtua's programs and services, community events, recent awards and more.
See More