Home Care Coordinator
Job ID 1036951 Type Employee - Per Diem Location Mount Laurel, New Jersey Standard Hours 0

Summary:

Facilitates patient flow through the core process of assess, diagnose, plan, treat, reassess, and return to the community for those patients identified as needing home care services.

Exchange patient-related information with home care staff to provide for smooth transitions between hospital and home care setting.

Facilitates the transfer of patients from the hospital to home care.

Arranges for the uninterrupted continuation of medical care, assists in the organization of family resources and reducing the psychological apprehensions inherent in returning the patient to his/her residence.

Position Responsibilities:

• Performs assessment of clinical, psychosocial and demographic information to identify problems and develop Plan of Care and completed initial evaluation for targeted Home Care admission.

• Collaborates with health care team to facilitate and establish patient discharge status.

• Interacts with physicians, case management and health care team to coordinate care and effectively establish Plan of Care for discharge.

• Educates patients/families/hospital staff regarding home Care services.

• Cultivates collegial relationships with physicians, health care personnel, other facilities, community agencies and third party payers.

• Coordinates work schedule to achieve maximum productivity and efficiency.

• Maintains department level competencies.

• Participates in Performance Improvement activities.

Position Qualifications Required / Experience Required:

Minimum of 3 years of clinical nursing experience with 1 year Home Care Nursing.

Advance communication and interpersonal skills.

Previous experience with data collection and analysis.

Required Education:

BSN preferred.

Training/Certifications/Licensure:

Must have a valid NJ RN License. Approved licenses must be presented and maintained in accordance with the State of New Jersey Licensing Board.
Apply


Check Out This Job's Location
The Virtua Experience
Our journey to be leader in customer satisfaction and loyalty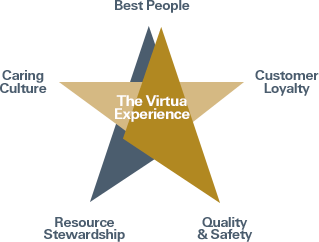 Mission:

Virtua helps you be well, get well, and stay well.

Vision:

Virtua, the premier choice in health and wellness.

The Virtua Credo:

We provide genuine, caring service every time.
NEWS RELEASES
Read the latest news about Virtua's programs and services, community events, recent awards and more.
See More