Sourcing Specialist - Talent Acquisition - seeking healthcare recruiting exp.
Job ID R1010198 Type Employee - Full Time Location Mount Laurel, New Jersey Standard Hours 40
Summary:

The Sourcing Specialist/Talent Selection Specialist, will partner with Talent Acquisition's Client Relationship Specialist to identify recruiting needs, trends in healthcare, and to address Virtua's growth and strategic workforce plan.  Works closely with internal clients and TAC to understand their recruitment needs and meet their business hiring objectives. Utilize their expertise of attracting and identifying the highest performing talent, while exceeding the expectations and advising on the best candidate talent match for said business.

The Client Relationship Specialist/Talent Selection Specialist's role directly aligns with Virtua's philosophy of attracting top talent in order to help Virtua grow and flourish as a leading healthcare organization.

Partner within HR to provide seamless delivery of HR Services to the divisions.

Promote Virtua by providing guidance, counseling, and education to the internal and external Virtua community about health care careers through job fairs, career days, and individual counseling.

Position Responsibilities:

• As a Talent Selection Specialist, utilize talent acquisition technology to enhance processes to deliver metrics and results, via reports to measure successes.

• Participate in various recruitment project initiatives, such as interview days; hiring events; screening candidates; sourcing prospects; pipelining applicants/candidates to appropriate positions.

• Provide guidance, counsel, and education to the internal and external Virtua community about health care careers through job fairs, career days, and individual counseling.

• Develop position profiling, attraction and marketing plans, sourcing and networking strategies, to include social media to identify top talent and engage/onboard candidates through ATS.

• Adheres to recruitment ATS polices and processes by utilizing system for sourcing and tracking of candidates and activity.

• Drive facilitation of continuous improvement via measurement tools, scorecards, and recruitment analytics.

• Will participate in events, job fairs, community information/teaching.

Position Qualifications Required / Experience Required:
Minimum of three years recruiting/sourcing.
Strongly prefer experience recruiting/sourcing for Healthcare and/or hospital system.
Experience utilizing recruiting technology required.

Workday ATS knowledge

preferred.
Generate qualified candidate pools through cost-effective efforts-Internet. Sourcing tools LinkedIn, Twitter, Facebook and diversity oriented sites.
Ability and experience to shift current recruiting paradigm to build up social recruiting network.

Required Education:
Bachelor's Degree strongly preferred.
Or strong knowledge of talent acquisition operations as normally obtained through the completion of a Bachelor's Degree in a related field and five years of progressively responsible experience in applicable area(s) of position responsibility.

Training/Certifications/Licensure:

HR Certificates a plus (PHR, SPHR).
Apply


Check Out This Job's Location
The Virtua Experience
Our journey to be leader in customer satisfaction and loyalty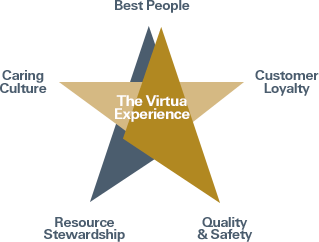 Mission:

Virtua helps you be well, get well, and stay well.

Vision:

Virtua, the premier choice in health and wellness.

The Virtua Credo:

We provide genuine, caring service every time.
NEWS RELEASES
Read the latest news about Virtua's programs and services, community events, recent awards and more.
See More