Environmental Services Worker
Job ID R1009518 Type Employee - Full Time Location Voorhees Township, New Jersey Standard Hours 40

Summary:

Maintains a safe and sanitary environment for visitors, patients and employees.

Position Responsibilities:

• Cleans and maintains Virtua facilities as directed. Includes responsibilities such as cleaning, removing trash, linen distribution, and room set up.

• Maintains universal precautions to ensure patient and employee safety.

• Safely handles and disposes of regulated medical waste, and other trash.

• Responsible for proper chemical usage and maintaining a safe environment, including storage of chemicals.

• Other duties as assigned.

• May assume linen responsibilities as required.

• May be required to work in other facilities as assigned.

Position Qualifications Required / Experience Required:

Prior customer service experience preferred.

Ability to speak English required.

Apply


Check Out This Job's Location
The Virtua Experience
Our journey to be leader in customer satisfaction and loyalty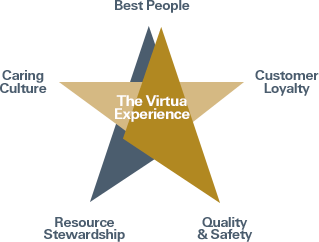 Mission:

Virtua helps you be well, get well, and stay well.

Vision:

Virtua, the premier choice in health and wellness.

The Virtua Credo:

We provide genuine, caring service every time.
NEWS RELEASES
Read the latest news about Virtua's programs and services, community events, recent awards and more.
See More