Newborn Developmental Specialist
Job ID R1009606 Type Employee - Full Time Location Voorhees Township, New Jersey Standard Hours 40
Level III NICU experience required
Summary:

The Newborn Developmental Specialist provides interdisciplinary leadership, education, mentoring, and system change skills necessary for provision of comprehensive developmental programs.

The professional in this role promotes a culture of care among all staff that recognizes and supports the vital role of parents in nurturing their infants.

The Newborn Developmental Specialist moves the nursery, as a whole, toward sensitive NICU care.

Position Responsibilities:

• Performs structured bedside observations of infants to determine strengths and capacities, as well as areas of vulnerability, for formulating a developmental plan of care; incorporates bedside caregivers and parents in interpretation of infants' behaviors in support of developmental goals.

• Formulates a developmental plan of care of infants in the context of their families directly and through bedside caregivers. Plan of care provides recommendations for nursery environment, bedding and bedspace, and direct caregiving; re-evaluates and updates plan of care as indicated.

• Integrates parents in developmentally supportive caregiving, and supports their role as primary nurturers of their infants. Individualized parent teaching sessions and small group in-services serve as formats for parent education efforts.

• Consults with professional staff and organizes re-engagement of Developmental Care Committee to foster staff education and growth, while supporting their specific areas of interest in Developmental Care.

• Collaborates with unit APN for assessing of staff needs regarding and programming for Developmental Care.

• Participates in 'new hire' education as per APN directive.

• Monitors developmental product inventory, integrity of products, and appropriateness of usage. Surveys new product options and provides recommendations for purchase. Acts as a liaison with vendors in procuring products for trialing.

• Participates in Quality Improvement Projects and other methods to measure the impact of Developmental Care initiatives on families and the efficacy of outcomes.

Position Qualifications Required / Experience Required:

3-years minimum experience with advanced knowledge and expertise in system organization, team dynamics, adult learning, consultation, leadership, and practice change.

Advanced clinical practice with preterm and sick infants in performing assessments, providing intervention, and developing a continuously evolving, developmentally-focused plan with infants, families and staff.

Required Education:

Master's degree.

Advanced practice, discipline-specific degree from any of a wide variety of professions, including medicine, psychology, nursing, or physical therapy, as examples.

Training/Certifications/Licensure:

Advanced preparation, formal and informal, in a wide variety of infant topic areas.

Established credentials and licensure in the state of New Jersey.

CPR certification.

Certification in preterm infant feeding assessment.
Apply


Check Out This Job's Location
The Virtua Experience
Our journey to be leader in customer satisfaction and loyalty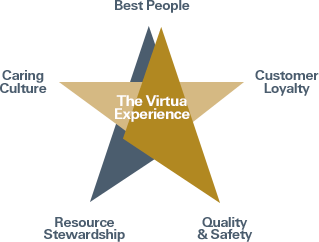 Mission:

Virtua helps you be well, get well, and stay well.

Vision:

Virtua, the premier choice in health and wellness.

The Virtua Credo:

We provide genuine, caring service every time.
NEWS RELEASES
Read the latest news about Virtua's programs and services, community events, recent awards and more.
See More