Perioperative Assistant
Job ID R1007304 Type Employee - Per Diem Location Voorhees Township, New Jersey Standard Hours 0

Summary:

Provides basic care services including patient, specimen, and equipment transport along with room cleaning, light maintenance and linen management.

Assist Product Coordinator with unpacking and delivery of supplies from warehouse.

Position Responsibilities:

• Prioritizes OR suite cleaning for room Turnover and cleans common areas within the perioperative area using prescribed procedures.

• Assists with transferring, transporting and positioning of patients while using correct body mechanics.

• Assists in OR set-up for each case, having essential equipment moved into the room. Following case, cleans and puts away equipment not needed. Transports and handles essential equipment per policies and procedures.

• Handles and transports specimens according to policies and procedures.

• Stocks shelves in compliance with par levels, stocks linen and fluids. Responsible with assisting Products Coordinator in putting away all warehouse supplies on a daily basis.

Position Qualifications Required / Experience Required:

Previous patient care experience/skills preferred.

Required Education:

High School diploma or equivalent (GED).

Training/Certifications/Licensure:

BLS Certification.
Apply


Check Out This Job's Location
The Virtua Experience
Our journey to be leader in customer satisfaction and loyalty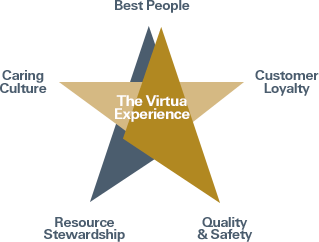 Mission:

Virtua helps you be well, get well, and stay well.

Vision:

Virtua, the premier choice in health and wellness.

The Virtua Credo:

We provide genuine, caring service every time.
NEWS RELEASES
Read the latest news about Virtua's programs and services, community events, recent awards and more.
See More