Wound Ostomy Assessment Coordinator Full time
Job ID R1009626 Type Employee - Full Time Location Voorhees Township, New Jersey Standard Hours 40

Summary:

Certified Nurse Consultant for Wound & Ostomy patient referrals for acute and ambulatory care.

Services provided after consult generated by physician or nursing departments for individualized patient assessment and treatment recommendations.

Adjunctive Nursing services include staff education, interdisciplinary coordination of care, clinical leadership, clinical trials and studies and performance improvement activities.

Position Responsibilities:

• Certified Nurse Consultant assessment, diagnoses, planning, implementation and evaluation of wound and/or ostomy patients.

• Staff education- unit based education, systemwide education programs, vendor product education/coordination, competency training for staff, case studies.

• Interdisciplinary Coordination of Care- works closely with physicians, physical therapy, nutrition, nursing services, home care, case management & social services in the coordination of all wound, ostomy and skin care needs of patients.

• Clinical Leadership- Representative on systemwide and divisional committees. Nursing leader who serves as change agent and role model for nursing staff and coordinates projects and activities related to wound, ostomy and skin care systemwide.

• Clinical Trials and Studies- Works closely with Materials Management and PVAC committee to initiate wound, ostomy, bed therapy and skin care product trials, clinical studies and evaluation.

• Performance Improvement Activities- monthly or quarterly divisional Pressure Ulcer Prevalence & Incidence Studies with follow up patient assessments, plan of care and action planning. Participation in RCAs and investigation of Occurance Reports related to hospital acquired pressure ulcers. Member on Six Sigma projects or CAPs related to skin/wound issues.

Position Qualifications Required / Experience Required:

1 year of wound and ostomy (CWON) experience desired in acute care setting.

Required Education:

BSN degree required.

MSN preferred.

Graduate from approved WOCN education program. Graduate from accredited RN School of Nursing.

Training/Certifications/Licensure:

Current RN License in State of NJ required. Advanced Practice License in State of NJ desired.

BLS required.

Driving License required.
Apply


Check Out This Job's Location
The Virtua Experience
Our journey to be leader in customer satisfaction and loyalty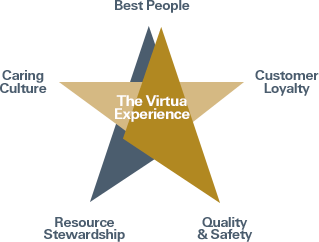 Mission:

Virtua helps you be well, get well, and stay well.

Vision:

Virtua, the premier choice in health and wellness.

The Virtua Credo:

We provide genuine, caring service every time.
NEWS RELEASES
Read the latest news about Virtua's programs and services, community events, recent awards and more.
See More