Jobs and Careers at VIRTUA
About Virtua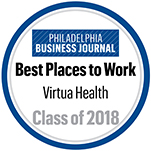 Virtua, a multi-hospital healthcare system headquartered in Marlton, NJ, is where talented, driven professionals come to deliver the highest quality patient care.
The Virtua Experience: Our journey to be the leader in customer satisfaction and loyalty
Mission:
Virtua helps you be well, get well, and stay well.
Vision:
Virtua, the premier choice in health and wellness.
The Virtua Credo:
We provide genuine, caring service every time.
We believe every interaction is an opportunity to build relationships and loyalty through listening, anticipating needs, collaboration, and engagement.